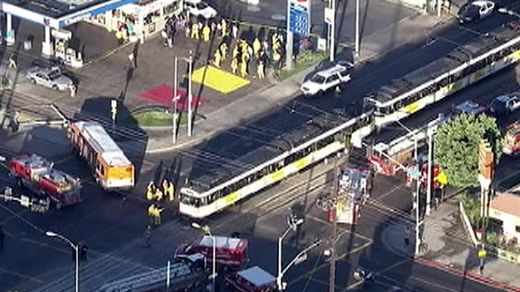 A transit bus and Metro Blue line train crashed near downtown Los Angeles on Monday morning, injuring dozens of people, Los Angeles Fire Department officials say.
Officials say at least 40 people were on board the bus. Medical personnel were attending to as many as eight people who were traveling on the train, according to NBCLosAngeles.com.
None of the injuries was life-threatening, according to fire-rescue officials. The number of patients hospitalized was not immediately available.
The Line 51 bus collided with the train at about 7 a.m.. The bus then crashed into at least two light poles, fire officials say.
The intersection at Washington Boulevard and San Pedro Street remained closed. Major delays were expected, and authorities were adding more buses to the area for morning commuters.