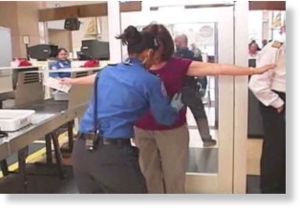 The American Civil Liberties Union (ACLU) received over 900 complaints from travelers over the last month who've been subjected to the new screening procedures of the Transportation Security Agency.
"The TSA agent used her hands to feel under and between my breasts," said one woman. "She then rammed her hand up into my crotch until it jammed into my pubic bone."
About 70 airports have put into use over 400 backscatter x-ray machines that can see beneath passengers' clothing. If the ticket-holder refuses the scan due to health or privacy concerns, they're subjected to an invasive physical pat-down. The new body scanners and pat down procedure have both received intense scrutiny amid reports of travelers feeling humiliated and traumatized.