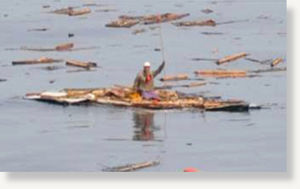 Rescuers spot 60-year-old from Fukushima prefecture clinging to the roof of his home two days after the tsunami struck
A 60-year-old man has been found on the roof of his floating house nearly 10 miles out at sea, two days after the tsunami that devastated the north-east coast of Japan.
Hiromitsu Shinkawa must have resigned himself to his fate when he was swept away by the retreating tsunami that roared ashore in his home town of Minami Soma in Fukushima prefecture.
As the wave approached, Shinkawa took the fateful decision to return home to collect belongings. Minutes later he was out at sea clinging to a piece of the roof from his own home.
Incredibly, he was spotted by a maritime self-defence force destroyer taking part in the rescue effort as he clung to the wreckage with one hand and waved a self-made red flag with the other. He had been at sea for two days.
Reports said that on being handed a drink aboard the rescue boat, Shinkawa gulped it down and immediately burst into tears. His wife, with whom he had returned home as the tsunami approached, is still missing.