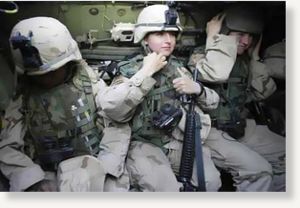 Washington - A lawsuit targeting the Pentagon contains an astonishing anecdote about a retired Sergeant's experience after being sexually assaulted by a colleague during a deployment to Afghanistan.
The lawsuit, available here (
PDF
), was filed by 17 military women against Secretaries of Defense Robert Gates and Donald Rumsfeld in Virginia. It assails "the military's repeated failures to take action in rape cases created a culture where violence against women was tolerated, violating the plaintiffs' Constitutional rights."
Sergeant Rebekah Havrilla alleges in the complaint that in 2006, after her military supervisor repeatedly sexually harassed her, she was raped by a colleague she was working with at the time.