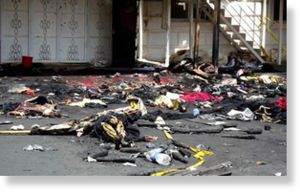 Kuwait's supreme court on Sunday upheld a woman's death sentence for setting ablaze her husband's wedding tent, killing 57 women and children.
Nasra Yussef Mohammed al-Enezi, 24, was condemned to death by a lower and appeals courts for the apparent act of revenge against her husband for taking a second wife.
Under Islamic laws, men in Kuwait can take up to four wives at a time.
The ruling against Enezi is final unless the emir commutes the sentence to a life term. Death sentences in the oil-rich Gulf state are carried out by hanging.