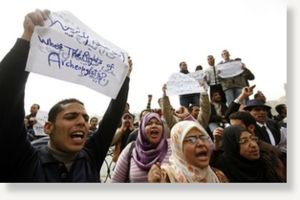 At least 1,500 Egyptian workers from the Suez Canal Authority protested for better pay Thursday in three cities straddling the strategic waterway, one of the world's major transit routes for shipping and oil transport.
Though the action raised concerns that labor unrest along Suez could escalate, the workers vowed their protest would not disrupt traffic through the waterway - the only direct passage linking the Mediterranean with the Red Sea and the Indian Ocean. About 7.5 percent of world sea trade passes through the canal, the shortest route between Europe and Asia. Suez is a major source of revenue for Egypt, used to transport more than one million barrels of crude oil daily, or almost 6 percent of world oil supply.
The Suez protests are part of growing labor unrest rekindled by the 18-day uprising that toppled longtime leader Hosni Mubarak on Friday. Strikes and protests are deepening economic malaise, compounded by weeks of bank closures that are hampering business operations and the drying up of tourism - a major money earner for Egypt.