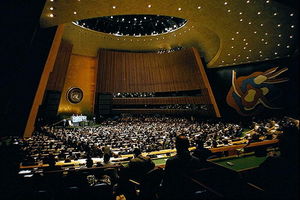 Key Libyan diplomats disowned Moammar Gadhafi's regime for its brutal crackdown on protesters and the country's deputy U.N. ambassador called for an urgent meeting of the U.N. Security Council that will take place Tuesday.
The Libyan ambassador to the United States urged Gadhafi to step down, the ambassador to India resigned as did the ambassador to Bangladesh who protested the killing of family members by government troops.
Almost all Libyan diplomats at the United Nations backed deputy ambassador Ibrahim Dabbashi's pleas to Gadhafi to end his 40-year rule and to the international community to intervene.
The U.N. spokesperson's office said late Monday that the Security Council had scheduled consultations on the situation in Libya for Tuesday morning. Earlier, Dabbashi had called for an urgent meeting of the council to take action to stop the bloodshed.
U.N. Secretary-General Ban Ki-moon told reporters in Beverly Hills, California, that he hopes "the Security Council will take this matter on an urgent basis."