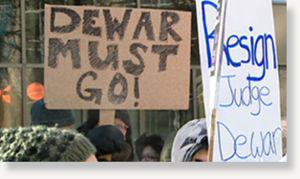 The Canadian Judicial Council is reviewing complaints received against Manitoba Court of Queen's Bench Justice Robert Dewar in regard to comments he made in recent days.
During a sentencing hearing last week in Thompson, Dewar commented on the way a woman was dressed and her actions the night she was forced to have sex by a man in the woods along a dark highway outside that city in 2006.
There have been numerous media reports and public reaction to the comments, Norman Sabourin, CJC executive director, stated in a news release issued Friday afternoon.
"Council takes the review of all complaints seriously. The complaints against Justice Dewar will be reviewed in accordance with the council's complaints procedures," he said.