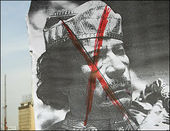 Cairo -- Members of Libya's Arab League mission say they have resigned en masse because of Libyan leader Moammar Gadhafi's use of force against his opponents.
The 11 members said in a statement Friday they decided to quit and join the opposition demanding that Gadhafi abandon power.
The head of the delegation, Abdel-Moneim al-Houni, had already resigned as Libya's ambassador to the 22-member Arab League on Sunday.