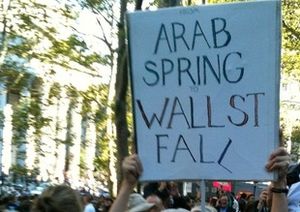 To all those in the United States currently occupying parks, squares and other spaces, your comrades in Cairo are watching you in sol­i­dar­ity. Having received so much advice from you about tran­si­tion­ing to democracy, we thought it's our turn to pass on some advice.
Indeed, we are now in many ways involved in the same struggle. What most pundits call "The Arab Spring" has its roots in the demon­stra­tions, riots, strikes and occu­pa­tions taking place all around the world, its foun­da­tions lie in years long struggles by people and popular movements. The moment that we find ourselves in is nothing new, as we in Egypt and others have been fighting against systems of repres­sion, dis­en­fran­chise­ment and the unchecked ravages of global cap­i­tal­ism (yes, we said it, cap­i­tal­ism): a System that has made a world that is dangerous and cruel to its inhab­i­tants. As the interests of gov­ern­ment increas­ingly cater to the interests and comforts of private, transna­tional capital, our cities and homes have become pro­gres­sively more abstract and violent places, subject to the casual ravages of the next economic devel­op­ment or urban renewal scheme.
An entire gen­er­a­tion across the globe has grown up realizing, ratio­nally and emo­tion­ally, that we have no future in the current order of things. Living under struc­tural adjust­ment policies and the supposed expertise of inter­na­tional orga­ni­za­tions like the World Bank and IMF, we watched as our resources, indus­tries and public services were sold off and dis­man­tled as the "free market" pushed an addiction to foreign goods, to foreign food even. The profits and benefits of those freed markets went elsewhere, while Egypt and other countries in the South found their immis­er­a­tion rein­forced by a massive increase in police repres­sion and torture.