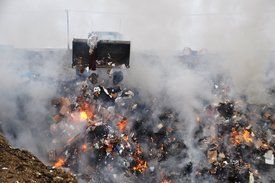 A recently leaked 2011 Army memo obtained by
Danger Room
reveals startling negligence by US officials regarding 'burn pits', or toxic waste sites at US bases in Afghanistan.
The leaked memo outlines the "long-term adverse health conditions" for troops breathing in toxic air from military trash burning sites. The adverse health affects have previously been hidden from public knowledge; however, the leaked memo states that high concentrations of dust and burned waste from such burn pits can cause "reduced lung function or exacerbated chronic bronchitis, chronic obstructive pulmonary disease (COPD), asthma, atherosclerosis, or other cardiopulmonary diseases."
The memo specifically references Bagram airfield's apparently infamous 'burn pit' known by its expansiveness and pungent smell -- a "smoldering barbecue of trash, from busted furniture to human waste, usually manned by Afghan employees who cover their noses and mouths with medical breathing masks," according to Spencer Ackerman at the
Danger Room
.