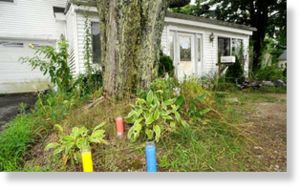 Prosecutors say Daryl Benway killed his daughter and injured his son at the home he had shared with recently separated wife
A man who had recently separated from his wife shot his two children, killing his seven-year-old daughter, before turning the gun on himself, prosecutors said.
A family member called police Saturday night after finding the bodies of 41-year-old Daryl Benway and his daughter, Abigail, in the master bedroom of their two-story Oxford home, Worcester County district attorney Joseph Early said.
Benway's nine-year-old son, Owen, was found shot in the head in the kitchen and was taken to UMass Memorial Children's Medical Center in serious condition. Owen has been in pediatric intensive care, a spokesman for Early said Sunday. He said he had no additional information about Owen Benway's condition, and a hospital spokeswoman would not comment.