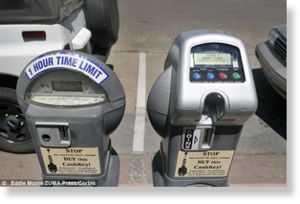 A Santa Monica, California, woman claims that the city's new parking meters are causing her to have ear infections and tightness in her neck - so she wants the city to pay her billions for the inconvenience. Denise Barton has demanded the city pay her $1.7billion for the damage done since the new meters were installed in April and $1.7million every month thereafter.
The city has denied the meters emit dangerous levels of radiation, saying the WiFi 's range is only five to eight feet and is on par with other consumer electronics. 'I know it seems a little big,' said Barton, a well-known local activist, to the
Santa Monica Daily Press
. 'But they can't do things that affect people's health without their consent. I think that's wrong.'
She says the city began rolling out the new meters in April and her problems started shortly thereafter. The smart meters use wireless signals to process credit cards and monitor when a car arrives or departs. A month after the devices were installed, Barton went to a doctor for an ear infection and needed antibiotics. Barton believes that the radiation emitted by the smart meters is harming her health.