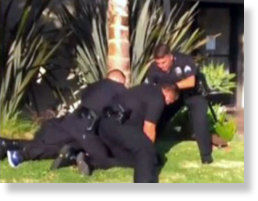 Ronald Weekley Jr., a 20-year-old skateboarder who alleges that police used excessive force when they arrested him on Saturday, has hired Benjamin Crump, the attorney representing the family of Trayvon Martin,
CBS Los Angeles reports
.
According to the Los Angeles Police Department, officers tried to stop and detain Weekley at 6:25 p.m. on Saturday after spotting him skateboarding in traffic on Sunset Avenue in Venice, a violation of the vehicle code.
CBS Los Angeles reports a cell phone video of the arrest of Weekley shows four officers on top of the skateboarder, who is face down on a lawn. It appears as though Weekley is punched in the face repeatedly by one of the officers, as the other three wrestle with him on the ground.
Crump questioned why police stopped Weekley in the first place.
"Was he stopped because he was on the wrong side of the road, or was he attacked because he was the wrong color?" Crump asked.