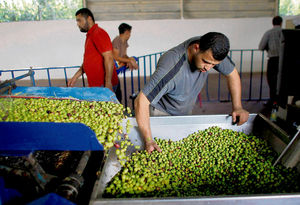 Hundreds of olive trees have been destroyed and olive groves set on fire, apparently by Israeli settlers trying to make the lives of their owners impossible, writes Mark Weiss in Jerusalem
Palestinians protesting against the uprooting of olive trees by West Bank Jewish settlers yesterday blocked the main 443 motorway to Jerusalem before being dispersed by Israeli border police using stun grenades.
"As long as the Palestinians are being assaulted by the settlers, especially during the olive harvest, and as long as Palestinians' lives are disrupted, the lives of Israelis will also be disrupted," said a member of the local popular committee which organised the protest.
The action came a day after representatives of Israeli human rights groups urged the army to act after more than 450 olive trees belonging to Palestinian farmers were vandalised in the West Bank over the last few weeks, coinciding with the start of the annual olive harvest.
The Palestinians accuse militant Jewish settlers of damaging their crops and claim the Israeli security forces fail to provide adequate protection despite similar attacks in previous years.
Representatives of the settlers claim that similar damage done to their olive trees by Palestinians is largely ignored by the media.