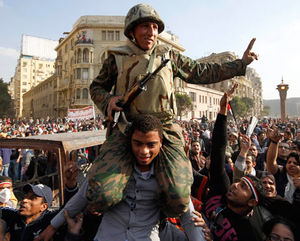 At least 10 protesters have been killed and scores injured in the Egyptian city of El-Arish on the day that saw the historic overthrow of former President Hosni Mubarak.
Hours before Mubarak announced his resignation, government vigilantes clashed with pro-democracy protesters who surrounded a police station in the Egyptian city of El-Arish late Friday to free prisoners held by the regime, a Press TV correspondent reported.
Government forces then fired tear gas and live bullets to break up the demonstrators, killing at least 10 protesters and injuring 50 others.
Protesters, who were increasingly incensed by Mubarak's refusal to cede power in his televised speech a day earlier, eventually managed to secure the release of their friends and relatives during the melee, while twelve police officers surrendered to the crowd.