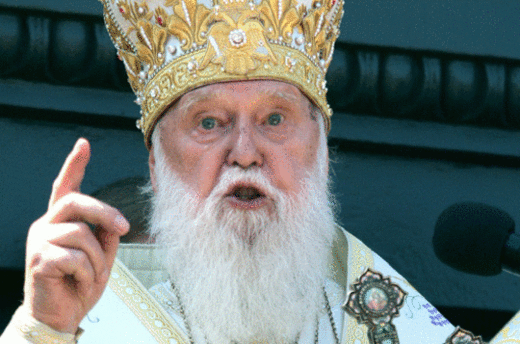 President Vladimir Putin has fallen under the spell of Satan and faces eternal damnation unless he repents, a top Ukrainian clergyman said on Saturday in an unusually blunt statement that squarely blamed the Russian leader for the war in Ukraine.
Patriarch Filaret heads the Kiev Patriarchate, a branch of the Orthodox Church that broke away from Moscow in 1992 after the fall of the Soviet Union and the declaration of an independent Ukraine.
His church,
a rival of the Moscow Patriarchate which is closely linked to Putin
,
strongly supports Ukrainian nationhood and the Kiev government's struggle to defeat pro-Russian separatists in eastern Ukraine
.
"With great regret I must now say publicly that among the rulers of this world ... there has appeared a new Cain, not by his name but by his deeds," Patriarch Filaret said, invoking the Biblical character who killed his brother Abel.

Comment: Paramoralisms abound! Last time we checked, it was Kiev who invaded east Ukraine and started killing their brothers and sisters there.


"Like the first fratricide of history Cain,
these deeds show that the afore-mentioned ruler has fallen under the action of Satan
," he said in the statement, published on the patriarchate's website in Ukrainian, Russian and English.