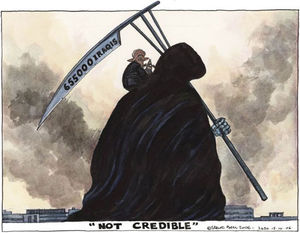 As we approach the 8th anniversary of a U.S. invasion of Iraq, and having just passed the 20th anniversary of another, it's worth reflecting on what's been accomplished through two wars and the intervening sanctions that former Secretary of State Madeleine Albright so famously approved of even at the cost of a half million children's lives.
While a growing mob of at least six Americans has noticed this week's videotaped confession by key WMD-liar "Curveball," our achievements in Iraq do not rest on whether anyone in Washington actually managed to convince themselves that Iraq had weapons, or even on whether anyone in Washington believed there was a reason to attack Iraq that actually made any moral or legal sense (as, of course, the possession of weapons did not). Our unprecedented accomplishments in the land where our civilization began stand or fall on their own merits, regardless of whether international law survives the blow we have dealt it by sending the architects of a sociocide off to book tours rather than prisons.
While our efforts in Iraq have taken a bit longer and cost a little more than the efforts of Egypt's young people to begin remaking their country, the results are far more grand. Let's compare. Setting aside years of training and organizing, in three weeks and at the cost of 300 deaths, Egypt has established that all of its people will have some say in its future. In Iraq, the United States has spent or wasted trillions of dollars over two decades, destroyed trillions of dollars worth of infrastructure, killed millions of people, injured and traumatized many millions more, driven several million people from their homes creating the greatest refugee crisis in the Middle East since the Nakba, encouraged ethnic and religious strife, segregated towns and neighborhoods, empowered religious fanatics, set back women's rights horribly, effectively eliminated gay and lesbian rights, nearly killed off some minority groups, decimated the nation's cultural heritage, and created a generation of people without the experience of peace, without education, without proper nutrition, without tolerance, without proper healthcare, without a functioning government, and without affection for or even indifference to the United States.