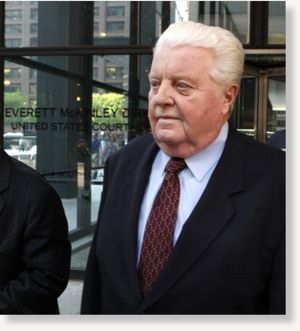 A decorated former Chicago police officer whose name has become synonymous with police brutality in the city was sentenced Friday to 4 1/2 years in federal prison for lying about the torture of suspects.
Dozens of suspects - almost all of them black men - have claimed for decades that Jon Burge and his officers electrically shocked, suffocated and beat them into confessing to crimes ranging from armed robbery to murder.
U.S. District Judge Joan Lefkow said the sentence reflected the seriousness of the allegations and, in making her decision, she wondered why a respected officer so admired by his department would resort to such violence.
"My best guess is ambition," Lefkow said. "Perhaps the praise, the publicity and the commendations . . . were seductive and led you down this path."
Burge was charged with lying when he testified in a civil lawsuit brought by Madison Hobley, who was sentenced to death for a 1987 fire that killed seven people, including his wife and son. Hobley was later pardoned.
Hobley claimed detectives put a plastic typewriter cover over his head to make it impossible for him to breathe. Burge denied knowing anything about the "bagging" or taking part in it. The indictment against Burge never said Hobley was tortured but accused Burge of lying about participating in or knowing about torture that took place under his watch. Burge has never faced criminal charges for abuse.