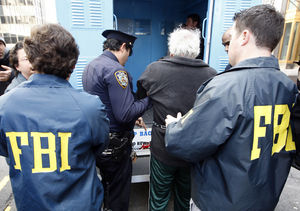 Roundup of suspected Cosa Nostra members in raids by 800 officers hark back to heyday of battle with the mob
The charge sheets read like a script from the heyday of Hollywood's love affair with the mob, replete with made men, consiglieres and vows of undying loyalty to the boss. In a move that made it seem time had stood still since The Godfather first astonished America in 1972, the FBI today renewed its decades-long battle against the US mafia.
In a devastating blow to the organised crime families of the north-eastern US, more than 800 FBI and police officers made the largest roundup of Cosa Nostra bosses and soldiers in US history. Some 127 mafia members and their accomplices were charged.
The arrests in New York, Newark in New Jersey and Rhode Island were both an indication of the mafia's enduring power in the US and of the determination of the FBI to regain the initiative in its struggle with the organisation.