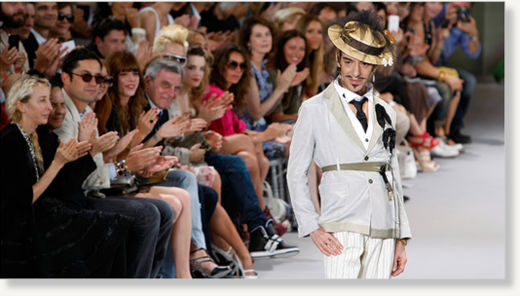 The French fashion house Christian Dior said Tuesday that it would dismiss its chief designer, John Galliano, after the surfacing of a video that showed his anti-Semitic outbursts at a Paris bar.
In a brief statement, Sidney Toledano, Dior Couture's chief executive, said he condemned ''in the strongest terms'' Mr. Galliano's words, ''which are in total contradiction with the essential values that have always been defended by the Christian Dior house.''
Dior, however, was still planning to go ahead with its autumn/winter 2011 ready-to-wear show on Friday as part of Paris fashion week. A spokeswoman for a separate label, John Galliano, said its women's wear show would also go ahead as scheduled Sunday.
Known as the ''bad boy'' of the fashion world for his flamboyant and provocative style, Mr. Galliano helped to energize Dior after he joined it in 1996 as creative director, increasing sales and making it a jewel of the LVMH Moët Hennessy Louis Vuitton luxury-goods empire run by the French billionaire Bernard Arnault. LVMH also owns the John Galliano line. Olivier Labesse, a spokesman for LVMH, did not return calls seeking comment on the designer's role there.
The departure of one of its most important designers has left the fashion world buzzing with questions. Dior, which was founded in 1945, is one of the few labels still specializing in haute couture.
In its statement, Dior said it had ''immediately suspended relations'' with Mr. Galliano and ''initiated dismissal procedures.'' It cited the ''particularly odious comments'' contained in the video posted Monday.
The video was posted on the Web site of the British tabloid newspaper
The Sun
. It appeared to show Mr. Galliano taunting patrons at a Paris bar, declaring in a slurred voice that ''I love Hitler'' and that ''people like you would be dead,'' and ''your mothers, your forefathers'' would all be ''gassed.'' It was unclear when the video was recorded or who recorded it.