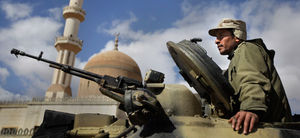 Tripoli, Libya - Residents of the rebel-held city closest to Libya's capital passed out sweets and cold drinks to fighters Tuesday and celebrated with a victory march after they managed to repel an overnight attack by forces loyal to longtime leader Moammar Gadhafi.
Pro-Gadhafi forces also were repelled as they tried to retake two other opposition-held cities: Misrata, Libya's third-largest city 125 miles (200 kilometers) east of Tripoli, and Zintan, 75 miles (120 kilometers) south of the Libyan capital.
The rebels have been fighting to consolidate their gains as the international community weighs new moves to isolate the longtime Libyan leader, including the possibility of creating a no-fly zone over Libya. But Gadhafi loyalists have made several advances to try to reclaim areas close to his main stronghold of Tripoli.
Secretary of State Hillary Rodham Clinton warned that Libya is at risk of collapsing into a "protracted civil war" amid increasingly violent clashes between the two sides.