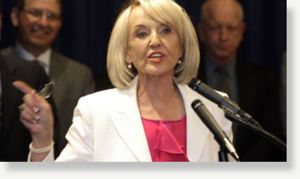 Arizona Gov. Jan Brewer vetoed a bill Monday that would have allowed guns on parts of public college campuses, a bill that she said likely faced a legal challenge.
"The bill was just poorly, sloppily written" Brewer told Fox News' Greta Van Susteren. "The legislation should have been crystal clear."
Brewer said in a written statement announcing the veto that the bill didn't adequately define the "public right of way" where guns could be carried on public university and community college campuses, and gun laws must be "crystal clear so that gun owners don't become lawbreakers by accident."
She also warned that the bill could have mistakenly included K-12 schools, "where federal and state laws generally prohibit weapons."
"While I support thoughtful expansion of where firearms should be allowed, the actual legislation that does so must be unambiguous and clear to protect the Second Amendment rights of gun owners. Senate Bill 1467 is neither," she said in the written statement.