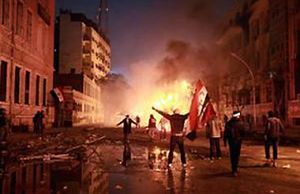 "Egyptians infuriated by the deaths of 74 people in soccer violence staged protests in central Cairo and clashed with the police forces, as the army-led government came under fire for failing to prevent the deadliest incident since the overthrow of Hosni Mubarak."
For the third day in a row, Deadly clashes continue to rage in Egypt over football riots leaving 12 killed and more than 2500 wounded in street clashes over authorities' failure to stop Port Said football violence.
State media reported renewed scuffles between members of the security forces encircling the building of the ministry of interior and demonstrators who included hardcore soccer fans, aka Ultras, known for confronting the police and who were on the frontlines of protests against the military throughout the last year.
The Ultras played a prominent role with anti-government activists in the uprising that toppled president Hosni Mubarak a year ago, and a spokesman on their behalf has suggested pro-Mubarak forces were behind the soccer incident, or at least complicit.
The soccer violence will likely strike news followers as most unfortunate and tragic accident, but for the supreme military council of armed forces of Egypt (SCAF), a council reluctant to relinquish power, it will definitely strike a different chord.
For a military institution that is supposed to hand over power to civilians by next July, after a monopoly of power for more than six decades, any incident that would allow chaos and insecurity to prevail will certainly be welcomed.
A stampede is an act of mass impulse among a crowd of people in which the crowd collectively begins running with no clear direction or purpose. But last Wednesday's soccer violence that left 74 killed and at least 1,000 people injured in the Egyptian coastal city of Port Said when soccer fans invaded the pitch after local team al-Masry beat Cairo-based Al Ahli, has been no accidental stampede.
The fingers are once again pointing at the police's complicity in the bloody incident as well as the overall instability and insecurity that has been afflicting the country since the fall of Mubarak.
The scenes and initial investigations proved all the gates to the football pitch were deliberately ordered open minutes before the end of the match, and also showed the police forces stood still and did almost nothing to prevent the disaster.