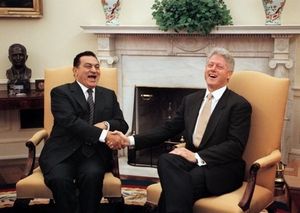 Security forces and thugs have raided and looted the International Center for Media in the Egyptian capital, Cairo, as the revolution in the crisis-hit country enters its 13th day.
The International Center for Media announced on Sunday that all the equipment at its Cairo office has been seized by the assailants, a Press Tv correspondent reported.
This is while, Egypt's main opposition group, the Muslim Brotherhood, has started landmark talks with Egyptian Vice President Omar Suleiman demanding an immediate elimination of Emergency Law and guarantees for peaceful protests.
Meanwhile, much larger crowds of Egyptian protesters have been entering Cairo's Liberation Square to mark the 13th day of revolution, dubbed "Day of Martyrs."