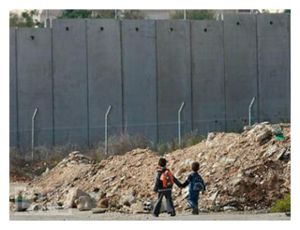 Congressman Russ Carnahan joined nearly 20 percent of the United States House of Representatives in a trip to Israel this month. Paid for by an affiliate of the American Israel Public Affairs Committee, these 81 representatives are supposed to represent our interests but are choosing to spend their recess in Israel -- and briefly in the occupied West Bank -- at a time when Americans are suffering and scared from high unemployment, a tanking stock market and a downgrade of our national bond rating.
I also recently traveled to the Holy Land, although I paid my own way. I was part of the "Welcome to Palestine" delegation. I was lucky. Most of my colleagues on the delegation were not allowed to join me. On July 8 over 120 people from Europe, North America and Australia were detained at Israel's Ben Gurion airport. They were then imprisoned by the State of Israel, most for over a week. Their only crime was that when Israeli custom officials asked what they were doing in Israel, they responded that they were planning to visit Palestinian friends in the Aida Refugee camp in Bethlehem. Three hundred other delegates who planned to visit Bethlehem and other places in the occupied West Bank were forced off their flights in Europe due to Israeli pressure.
During my time in the Holy Land, I had an opportunity to meet and talk with many Palestinians and Israelis. I learned about a system in Israel that discriminates against Palestinians on the basis of their ethnicity. In the West Bank, things are far worse. I observed an explicit system of racial segregation and ethnic cleansing, where Palestinians are separated from their own lands and water by walls, barbed-wire fences and machine-gun-wielding soldiers and Jewish settlers.