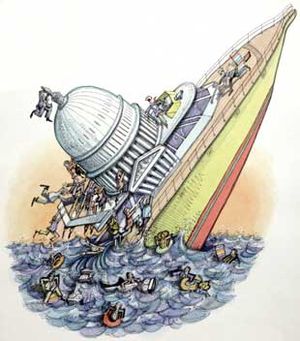 There's a very good post over at Mish's Global Economic Trend Analysis today. ("US in recession right here, right now") Blogger Mike Shedlock makes the case that the economy may already be in recession. It's all matter of whether if one uses the the consumer price index (CPI) or the the BEA's measure of price inflation to make their calculations. There's a fair amount of technical jargon to wade through in the article, but the charts are pretty persuasive and--if nothing else--they reinforce most people's suspicions that the economy is getting worse by the day.
It's too bad we don't have a financial media that's willing to explain what's going on in simple terms (like Mish), but we don't. Instead, we're deluged with daily datapoints that have little meaning to the average working slob who just wants to know whether he's going to have a job tomorrow or if the company he works for is going to pack-it-in and head for Shandong Province.
Monday's report on consumer spending is a perfect example of how the media distorts the news to create a cheery narrative of "economic recovery". Here's a clip from Bloomberg:
"Consumer spending climbed more than forecast in July as Americans dipped into savings to buy cars and cool their homes, showing the biggest part of the economy is holding up.

Purchases rose 0.8 percent, the biggest gain since February, after a 0.1 percent decline the prior month, Commerce Department figures showed today in Washington. The median estimate of 74 economists surveyed by Bloomberg News called for a 0.5 percent increase. Incomes grew 0.3 percent, pushing the savings rate to a four-month low.

Industry data showed autos sold at the fastest pace in three months as supply constraints from Japan's March earthquake began to ease, while outlays on services, which includes utilities like electricity and gas, climbed at the fastest pace since December 2009."