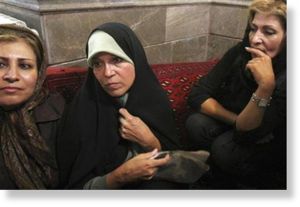 The daughter of influential former Iranian president Akbar Hashemi Rafsanjani was on Tuesday sentenced to jail and banned from political activities for "anti state propaganda" dating back to the 2009 disputed presidential election, Iranian media reported.
The Islamic state has piled pressure on the opposition ahead of a parliamentary election in March 2, the first test of the clerical establishment's popularity since the 2009 vote that critics say was rigged to re-elect Mahmoud Ahmadinejad.
Rafsanjani, who heads a powerful body that resolves disputes between parliament and a hardline clerical body, sided with the pro-reformers after that vote, which brought tens of thousands of people onto the streets during eight months of protests.
Daughter Faezeh Hashemi Rafsanjani went on trial last month on charges of "campaigning against the Islamic establishment," student news agency ISNA said.
She was arrested and briefly detained after addressing supporters of candidate Mirhossein Mousavi when they gathered near the state television building in Tehran in defiance of a ban on opposition protests in the aftermath of the election.