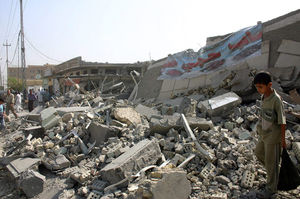 Doctors and residents blame US weapons for catastrophic levels of birth defects in Fallujah's newborns.
Fallujah, Iraq - While the US military has formally withdrawn from Iraq, doctors and residents of Fallujah are blaming weapons like depleted uranium and white phosphorous used during two devastating US attacks on Fallujah in 2004 for what are being described as "catastrophic" levels of birth defects and abnormalities.
Dr Samira Alani, a paediatric specialist at Fallujah General Hospital, has taken a personal interest in investigating an explosion of congenital abnormalities that have mushroomed in the wake of the US sieges since 2005.
"We have all kinds of defects now, ranging from congenital heart disease to severe physical abnormalities, both in numbers you cannot imagine," Alani told Al Jazeera at her office in the hospital, while showing countless photos of shocking birth defects.
As of December 21, Alani, who has worked at the hospital since 1997, told Al Jazeera she had personally logged 677 cases of birth defects since October 2009. Just eight days later when Al Jazeera visited the city on December 29, that number had already risen to 699.