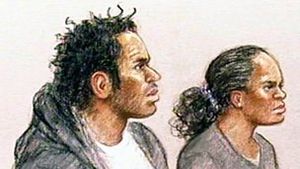 A 15-year-old boy was tortured and drowned by his sister and her boyfriend because they believed he was a witch, the Old Bailey has heard.
Kristy Bamu, from Paris, was found dead in Newham, east London, on Christmas Day in 2010.
The boy had 101 injuries and died from being beaten with a metal bar and drowning, the court heard.
His sister Magalie Bamu and her boyfriend, Eric Bikubi, both Congolese and aged 28, of Newham, deny murder.
Prosecutors told jurors of acts they described as "depraved", "wicked" and "cruel".