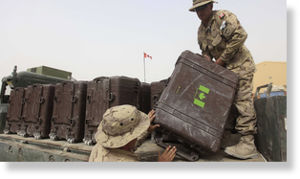 A new report says Canadian military equipment has been stolen from containers being shipped back from Afghanistan and replaced by sand and rocks to mask the larceny.
CBC News says the elaborate theft of Canadian Forces materiel was discovered when the shipping containers were opened in Montreal.
The Department of National Defence is confirming that various military hardware and gear is missing while insisting that none of the breached containers were carrying weapons, munitions or uniforms.
A full investigation into the theft is underway.
Montreal company A.J. Maritime is responsible for shipping goods back to Canada following the shutdown of the Canadian base in Kandahar last November.