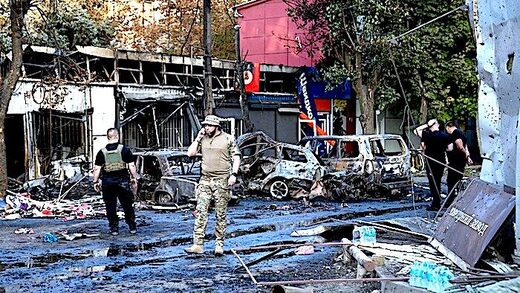 Kiev recently condemned the
New York Times
for suggesting a Ukrainian missile had killed civilians at a Donbass market...
Ukraine is resorting to "Soviet methods" to deal with unfavorable media coverage,
Bild
deputy editor-in-chief Paul Ronzheimer has claimed.
He criticized Kiev's recent attack on the
New York Times
as unjustifiable.
Contradicting claims by the Ukrainian authorities and other Western media, the US newspaper suggested earlier this week that
a Ukrainian missile, rather than a Russian one, had killed at least 15 civilians at a market in Donbass earlier this month.
Those claims drew condemnation from Ukrainian officials, including senior presidential aide Mikhail Podoliak, who accused the
NYT
of promoting "
conspiracy theories.
"
In a post on X (formerly Twitter) on Tuesday, Ronzheimer described Kiev's reaction to the report as 'absolutely unacceptable':
"That the government and military are now accusing NYT reporters of [spreading] 'propaganda' and 'fake[s],' more or less openly threatening with the revocation of accreditation because they make notes and analyze what is what, reminds [me] of Soviet methods and should have no place in Ukraine. Gagging the media has nothing to do with European or Western standards that Ukraine otherwise prides itself on."
He called for Kiev to respect the freedom of the press, even if the authorities are uncomfortable with what is reported.