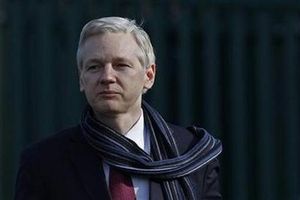 London - WikiLeaks founder Julian Assange has launched an appeal against a ruling that he should be extradited from Britain to Sweden over alleged sex crimes, his lawyer said on Thursday.
Last week Assange, who infuriated the U.S. government by publishing thousands of secret U.S. diplomatic cables, was told by a British judge he could be sent to Sweden to face questioning over complaints by two female WikiLeaks volunteers.
The 39-year-old Australian computer expert vowed to fight the extradition decision and his lawyers have now lodged papers appealing the verdict at London's High Court.
One volunteer accuses Assange of sexually molesting her by ignoring her request for him to use a condom during sex; the second says he had sex with her while she was asleep and that he was not wearing a condom, an allegation which falls into the least severe of three rape categories in Sweden.
Assange's lawyers claim he will not get a fair trial in Sweden, as rape cases are held in secret. They criticize the European arrest warrant system used to seek his extradition, and say there are political motivations for the prosecution.