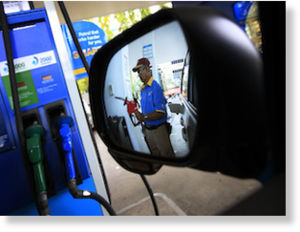 A new plan from the British government will use closed-circuit television (CCTV) cameras at gas stations that will automatically prevent uninsured drivers from filling up their gas tanks - that is, until their vehicle information has been logged in the system.
The Mirror
reports that the plan is meant to address the 1.4 million uninsured motorists in Britain and act as a deterrent. That may not sound like a huge number
compared with the estimated 13.8 percent of uninsured American motorists
, but the 1.4 million figure represents four percent of all U.K. drivers.
The British government decided to make use of the CCTV cameras after hearing a presentation from accounting firm Ernst & Young, which will help implement the new system. And while the proposal comes from the private sector but will be used by the government, it's hard to not immediately think of British author George Orwell's seminal novel
1984
.
"The key to this is simplicity. Connecting the existing technology ... is relatively inexpensive and wouldn't be a big information technology program" Ernst & Young partner Graeme Swan told the
Telegraph
. "There shouldn't be concerns about 'big brother' because there is no new database, no vehicles are tracked and no record is kept. It's simply a new rule of no insurance equals no fuel."