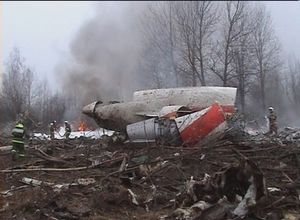 Smolensk, Russia - Polish President Lech Kaczynski and some of the country's highest military and civilian leaders died on Saturday when the presidential plane crashed as it came in for a landing in thick fog in western Russia, killing 97, officials said.
Russian and Polish officials said there were no survivors on the 26-year-old Tupolev, which was taking the president, his wife and staff to events marking the 70th anniversary of the massacre in Katyn forest of thousands of Polish officers by Soviet secret police.
The crash devastated the upper echelons of Poland's political and military establishments. On board were the army chief of staff, the navy chief commander, and heads of the air and land forces. Also killed were the national bank president, deputy foreign minister, army chaplain, head of the National Security Office, deputy parliament speaker, Olympic Committee head, civil rights commissioner and at least two presidential aides and three lawmakers, the Polish foreign ministry said.