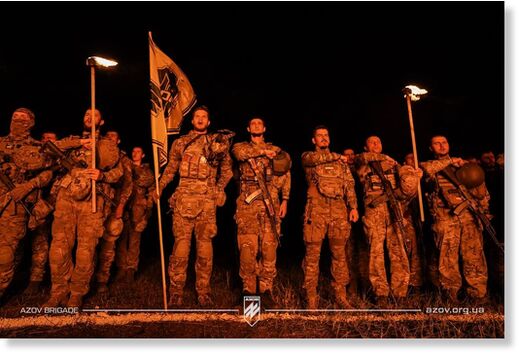 The neo-fascist Ukrainian Azov Brigade celebrated the Day of the Dead on Sunday, as it does every year on the autumn equinox, in various locations in Ukraine. The pro-war Mainstream Media used to criticize the Azov Brigade as Nazis
,
but now pretends like they don't exist.
The Azov Brigade was
founded in 2014
with funding by oligarch I
gor Kolomoisky
, who is believed to be the true owner of Hunter Biden's former employer Burisma and also funded the Presidential campaign of Volodymyr Zelensky. Kolomoisky has since fallen into disfavor with the Kiev Regime and
was arrested Sept. 2
. (Covered by Gateway here:
It All Comes Together: Hunter, Burisma, Kolomoisky, Zelensky and the "Children Burned Alive in Donetsk"
)