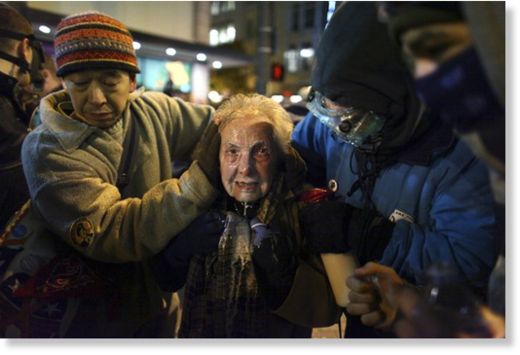 A downtown march and rally in support of the Occupy Wall Street movement turned briefly chaotic as police scattered a crowd of rowdy protesters - including a pregnant 19-year-old and an 84-year-old activist - with blasts of pepper spray.
Protest organizers denounced the use of force, saying that police indiscriminately sprayed the chemical irritant at peaceful protesters.
The Occupy Seattle movement released a written statement late Tuesday expressing support for "a 4-foot 10-inch, 84-year-old woman, a priest and a pregnant woman who as of this writing is still in the hospital."
Dorli Rainey is an activist who has supported liberal causes in the Seattle area for decades. A photo showing Rainey being cared for by fellow activists in the immediate aftermath of the police incident appeared on news websites around the world.
Seattle police spokesman Jeff Kappel said he didn't have specifics on the Rainey incident, but he said pepper spray is "is not age specific. No more dangerous to someone who is 10 or someone who is 80."