Tens of thousands demonstrate against President Ali Abdullah Saleh in the southern town a day after 15 people were killed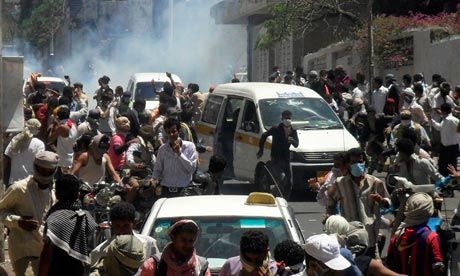 Fresh clashes have broken out in Taiz in southern Yemen as security forces and armed men in civilian clothes fired on protesters
a day after 15 people were killed
.
Witnesses told Reuters that several people had been hurt after hundreds of troops attacked tens of thousands of demonstrators. Men believed to be plainclothes police wielded bats and daggers as protesters responded by throwing rocks.
Al-Jazeera reported that hundreds of protesters were wounded in the clashes, with dozens taken to hospital in the capital, Sana'a, 120 miles away.
Amid continuing violence against the 32-year rule of the president, Ali Abdullah Saleh, the Gulf Co-operation Council, the regional security group, invited government and opposition representatives to talks in Saudi Arabia, at a date yet to be set. Abubakr al-Qirbi, the acting foreign minister after Saleh sacked his government two weeks ago, said the government would agree to talks in Riyadh. "We welcome the GCC invitation and the government is ready to discuss any ideas from our Gulf brothers to solve the crisis," Qirbi said.