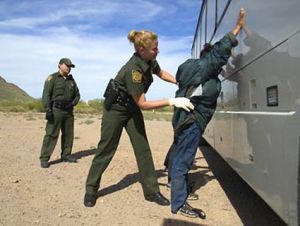 The government's fidelity to the Constitution is never more tested than in a time of crisis. The urge to do something - or to appear to be doing something - is nearly irresistible to those whom we have employed to protect our freedom and to keep us safe. Regrettably, with each passing violent crisis - Waco, Oklahoma City, Columbine, 9/11, Newtown and now the Boston Marathon - our personal freedoms continue to slip away, and the government itself remains the chief engine of that slippage.
The American people made a pact with the devil in the weeks and months following 9/11 when they bought the Bush-era argument that by surrendering liberty they could buy safety. But that type of pact has never enhanced either liberty or safety, and its fruits are always bitter.
he Constitution is the supreme law of the land. It was written to create and to restrain the federal government. Every person who works for any government in the U.S. has taken an oath of fidelity to the Constitution, not unlike the presidential oath, which induces a promise to preserve, protect and defend the Constitution.
The chief and final interpreter of the Constitution is the Supreme Court. One may not always agree with its interpretations, but they are, as legal scholars sometimes say, "infallible because they are final." Those interpretations are particularly final when we have relied on them for generations.
One of those rulings underscores the primacy of constitutional protections, no matter the environment in which they are claimed. Indeed, after the Civil War had ended and President Lincoln was dead, the Supreme Court in a case called Ex parte Milligan (1866) rebuked and reversed Lincoln's unilateral assaults on personal freedoms in the North and in so doing reminded us that the Constitution was written for good times and for bad, and its protections cover all persons at all times and under all circumstances who have any contact, voluntary or not, with the government.