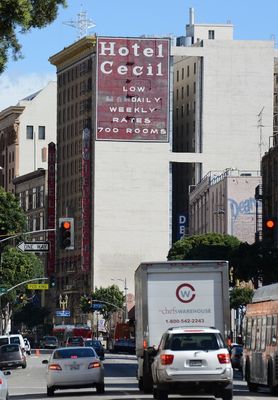 The gruesome discovery this week of a young woman's body inside a rooftop water tank at the Cecil Hotel in Los Angeles is not the Cecil's first brush with such notoriety,
as Southern California Public Radio's KPCC reports
.
Chris Nichols, associate editor at
Los Angeles Magazine
, told KPCC about the hotel's "long, dark history."
"
There were murders there in the '20s and '30s
," he said, "and
a woman jumped out a window in the '60s
."
"Night Stalker" Richard Ramirez
,
now on California's death row,
was a frequent resident in the 1980s, Nichols said. Back then, KPCC writes, "room rates were as cheap as $14. It's reported that he stayed in a room on the 14th floor while killing 14 people [he was convicted of 13 murders]."
Austrian murderer Jack Unterweger
, KPCC adds, also stayed there in the '80s. "He picked up some prostitutes nearby and they ended up dead," Nichols said.
The Guardian reminds us
that "between 1990 and 1993 Unterweger murdered 11 prostitutes in Vienna, Prague and Los Angeles, strangling them with a self-styled ligature constructed from his victims' bra straps." Unterweger killed himself in an Austrian prison in 1994.