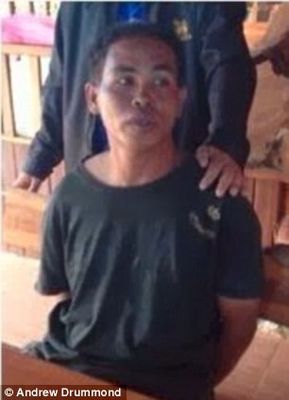 Chilling CCTV footage of the moment a six-year-old girl was led away by the hand to be raped and violently murdered has been released in Thailand.
The grainy clip, which echoes that of British toddler James Bulger being walked to his death in 1993, shows the girl, nicknamed 'Nong Cartoon', strolling with a stranger through the lobby of Bearing skytrain station in Bangkok ten days ago.
Her disappearance sparked a massive police hunt that ended yesterday with the discovery of her strangled and decomposing body in a deserted area near the city's Suklhumvit Soi 501 motorway in a case that has shaken the nation.
Within hours of the grim find, detectives arrested a 32-year-old music roadie, named only as 'Nui', 400 miles away in the northern city of Nong Khai, following a tip-off from a member of public.
Cartoon' vanished from her father's pick-up truck where she had been sleeping while he watched the end of a folk music concert in Thailand's capital on November 6.