A pro-union website is promoting walkouts and protests at Walmart stores, and the company has filed a charge with the National Labor Relations Board to stop it.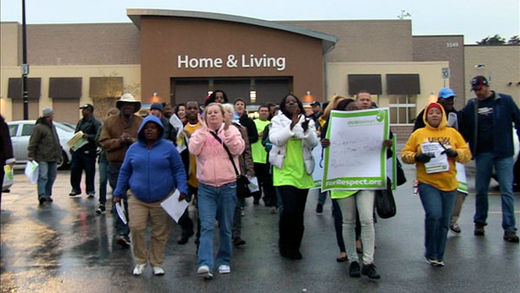 The site,
MakingChangeAtWalmart.org
, encourages employees of the retail giant to join Organization United for Respect at Walmart (OUR Walmart). The group had about 30,000 Facebook followers and 2,600 Twitter followers by Monday night.
The charge filed by the company Nov. 16 claims OUR Walmart is illegally acting as an agent or affiliate of United Food and Commercial Workers, which the union disputes.
The board is expected to rule on the claim quickly, according to
Bloomberg Business Week.
The company wants a judgement to stop protests that would disrupt shopping on Thanksgiving and Black Friday, one of the busiest shopping times of the year for retailers.
Kory Lundberg, a Walmart spokesman, told
The Nation
that employees asked the company to do something about the union's "publicity stunts."
The website claims it is unfair for workers and their families to have the store open Thanksgiving Day.
Also, demonstrations are expected to take place nationwide Thursday. However, some Walmart employees already began protesting the company's policies.
In addition to a repeal of the Thanksgiving opening, employees at stores and distribution centers are asking for a minimum hourly wage of $13 and an increase in full-time employment.
Workers are asking for more affordable healthcare as well, after Walmart decided to reduce its contribution to the employee insurance plan. Premium costs for the workers are expected to increase by as much as 36 percent.