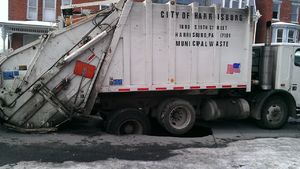 Grandma's grandma was but a wee lass, and the quickest way to get from here to there had four legs when many of Harrisburg's water and sewer pipes were put in.
It should be no great surprise they're giving up the ghost.
Mayor Linda Thompson said
the Cameron Street water main that broke Tuesday
night dated back to the late 1800s.
1884 to be exact.
The leak that's believed to have started the
massive Fourth Street sinkhole
that opened its maw on New Years day appeared to have come from an old clay pipe.
For years, we've taken our aging infrastructure for granted - replacing bits here and there when they failed, but generally avoiding the political backlash that comes with the higher bills required to replace wholesale the increasingly frail systems.
And the older the pipes get, the more often they crack a joint.
According to the EPA, one large water utility in the Midwest went
from 250 water main breaks per year to 2,200 per year
in just under two decades as the system outgrew its useful life.
There will be more breaks and more sinkholes in Harrisburg.