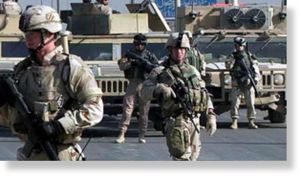 The US Justice Department has filed a lawsuit against certain American and foreign companies for defrauding the US Army between the years 2003 and 2004.
According to the suit, US troops deployed to Iraq during that time were fed ice shipped in unsanitized containers which were used as temporary morgues.
KBR and two foreign companies used "refrigerated trailers to transport ice for consumption by the troops that had previously been used as temporary morgues without first sanitizing them," the suit states.
"Sometime around July 2003, while [refrigerated trailer] R-89 was being used as a morgue, the refrigeration motor broke down, leading KBR to send it back to Kuwait for repairs," the suit adds.