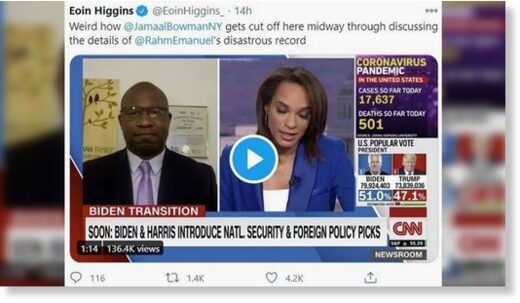 A CNN interview on why progressives are unhappy with Joe Biden's possible cabinet picks was cut less than a minute after it began, as the guest pointed out that one of the candidates had covered up a murder while in office.
Rahm Emanuel, a star Democratic
fundraiser
and the former mayor of Chicago, was floated this week as a potential secretary of transport for Biden. After the suggestion was met with a tsunami of anger from the progressive wing of the Democratic Party, rumor had it that a "less visible" position would be offered to him instead.
On Tuesday, CNN invited Jamaal Bowman, a progressive New York politician who earlier this year
unseated
16-term congressman Eliot Engel in a primary landslide victory, to discuss Biden's transition and whether there was a "progressive enough" candidate to get his endorsement.