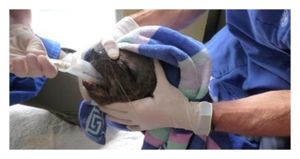 The Department of Conservation will lay charges against two men who admitted beating a seal pup with a boat oar and left the bloodied mammal to float down a West Auckland creek.
Two men, a 39-year-old from Massey and a 22-year-old from Henderson, were seen bashing the 1m fur seal at Henderson Creek at around 8pm on Monday night. Witnesses reported the attack to police who yesterday questioned the pair.
The 1-year-old seal's head was swollen on one side and its nose and muzzle bleeding after the attack.
"We're hoping the injuries are fairly superficial. One of our rangers picked it up from police [on Monday night] after they were looking after it at the water's edge," DoC biodiversity programme manager Phil Brown said.
The seal is now being treated at the New Zealand Centre for Conservation Medicine at Auckland Zoo.