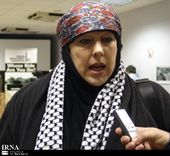 London, May 3, IRNA - British broadcaster and journalist Yvonne Ridley is sceptical about reports of the US assassination of Osama bin Laden, which comes at a time when President Barack Obama is plagued over questions about his birth certificate and rated so lowly in the polls.
"Only a gullible section of Americans are falling for this nonsense while the rest of the world is maintaining a healthy disbelief over the news that the al Qaida leader was killed in a compound in Abbottabad," Ridley said.
"What I would like to know is why did they dump the body at sea, thereby eliminating every bit of vital evidence?" she asked.
"This has only served to feed the many conspiracy theorists out there and those who no longer believe anything coming out of The White House since we were all lied to over the whereabouts of WMD in Iraq," she said.
The British journalist, who has extensive experience travelling around the Middle East, was expressing her doubts about the reports in an exclusive interview with IRNA.