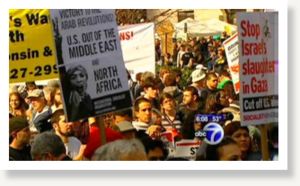 New York (WABC) -- Two rallies took place in Manhattan on Saturday; one protesting war, the other supporting unions.
A boisterous, anti-war rally in Manhattan on Saturday with activists demanding an end to U.S. involved conflicts.
Hundreds of demonstrators took part in the Union Square rally on Saturday afternoon.
Protestors said if the U.S. would pull out of the wars it's involved in, the government wouldn't need to cut spending on programs such as Medicare, Head Start and Medicaid.