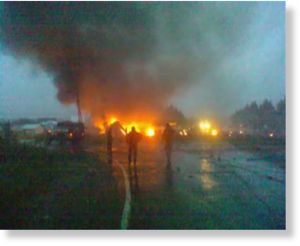 Forty-four people died and a handful of survivors were fighting for their lives after an overnight airliner crash in north-western Russia, the Civil Defence Ministry reported Tuesday.
The Russair charter flight from Moscow crashed about midnight (2000 GMT Monday) as it approached its destination, Petrozavodsk, 400 kilometres north-east of St Petersburg in Russia's Republic of Karelia, which borders Finland.
The Tupolev Tu-134, with 43 passengers and a crew of nine, made a hard landing on a highway about a kilometre from the airport at Petrozavodsk, the capital of Karelia, according to news reports.
A possible failure of communications between the air crew and ground controllers and thick fog could have been contributing factors, airline officials told the Interfax news agency.