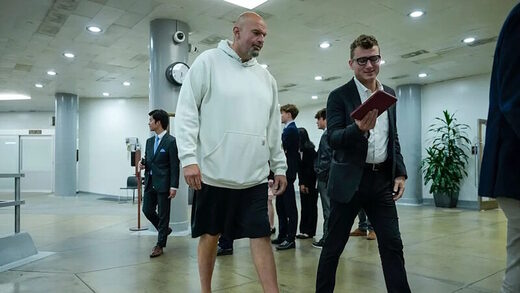 Following Majority Leader Chuck Schumer's decision to peel back the
dress code
for Senate members, Pennsylvania Senator
John Fetterman
has decided to take full advantage, sporting hooded sweatshirts and athletic shorts in one of the most powerful places in the world. As a result,
New York Post
reporter John Levine decided to see if that same dress code would fly in some of the nicest restaurants in the Big Apple.
It turned out that Levine was barred from gaining entry at Daniel on the Upper East Side, where a seven-course tasting menu runs about $275. A maître d' said that he "would not be permitted here." The
New York Post
report
noted that the restaurant seemed to demonstrate "more common sense than Congress."
The maître d' at Daniel confessed that she did not even know who Fetterman was. She added that the establishment has "turned away guests for being improperly dressed regardless of their occupation."