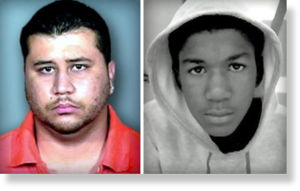 A forensic voice identification expert who analyzed the recordings said "without a doubt" that Trayvon Martin was the one screaming.
George Zimmerman, the man who shot and killed 17-year-old teen Trayvon Martin in Florida last month, was not the one screaming for help on the 911 tapes of the incident, according to two forensic experts who analyzed the evidence.
Trayvon Martin's family has insisted from the beginning that their son was the one heard screaming on the recordings, though Zimmerman's family disagreed, Slate reported. Zimmerman has claimed he shot Martin as an act of self-defense, and told police he was the one screaming for help.
Tom Owen, a forensic consultant and chair of the American Board of Recorded Evidence, used voice identification software to analyze the tapes at the
Orlando Sentinel's
request. Ed Primeau, a Michigan-based audio engineer and forensics expert, also examined the 911 recordings using different techniques. Both experts concluded that the voice calling for help is not Zimmerman, according to the
Sentinel
.