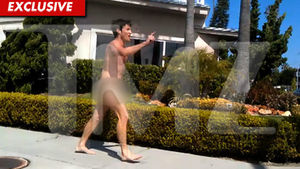 KONY 2012 director Jason Russell describes himself as a radical, rebel soul and dream evangelist.
"If Oprah, Steven Spielberg and Bono had a baby, I would be that baby," he told a magazine last year.
Now he can add another attribute to the list, one that Oprah, Spielberg and Bono are unlikely to approve of: man who runs through the street naked ranting about the devil.
Russell, the co-founder of controversial charity Invisible Children, was taken to a psychiatric ward in San Diego, California, on Thursday after suffering a meltdown in public. He is to be released later today.
TMZ
released video footage
of Russell hitting the pavement with his fists, swearing to himself and shouting.
It was claimed that Russell was also caught masturbating in the street.